WordPress RSS Feed and its usage
What is RSS Feed on the example of the Wordpress website. How to use RSS and what plugins are available for it. What does RSS look like on the developer and user side.
Out of the 175 million sites worldwide, 75 are using WordPress, with millions of content spreading across the web. But only think, how it would be good for us to have an automatic process of obtaining the preferred content. The good thing is that WordPress RSS Feed is actually can be used in this process.
How can we do that? Let's work this out.
What is an RSS Feed?
When talking about RSS Feed we name it just as an RSS or as a Feed. RSS stands as a Really Simple Syndication or Rich Summary Text. An RSS Feed is a kind of web server that permits users and applications to go along with the newest updates from chosen websites.
Let's take YouTube channel. As people want to be notified about the newest postings, they subscribe to the feed. RSS Feed functions in this same way: it keeps you up informed of new messages.
Any time we still have the ability to marker and access favorites websites yet this is a long-lasting process.
You can simply once to browse, accede to its feed, and be updated to it automatically. RSS not only simplifies the data exchange between the users but also gives content syndication. It is meant that WordPress websites users with convenience can distribute their content.
But still, lots of the people unfamiliar with the RSS Feed, through it exists since 1999. But,  given its practicableness, you ought to have a try!
WordPress RSS Feed Usage
Before we proceed, let me introduce you to the basics that comprise this system.
Feed reader (News aggregator): An app that collects news from multiple websites and clusters them into a single interface.
RSS Feed: A structured XML file for your WordPress website automatically appears when you publish something new. We call it a feed, which includes metadata of your content and a summary.
WordPress Sites: The place where managed and stored all the content.
It works pretty easy. The only thing you need to do is to sign up to sites using a channel reader. Whenever the site has new content, the channel reader will upload content for you. Alternatively, you receive notifications of new features to your mobile or email, depending on the configuration that was provided by your feed reader.
WordPress has provided a built-in feed reader as an option by default. After you have a page in WordPress, you will need to login to your account via wordpress.com. Then click "Reader" in the upper left part of the site.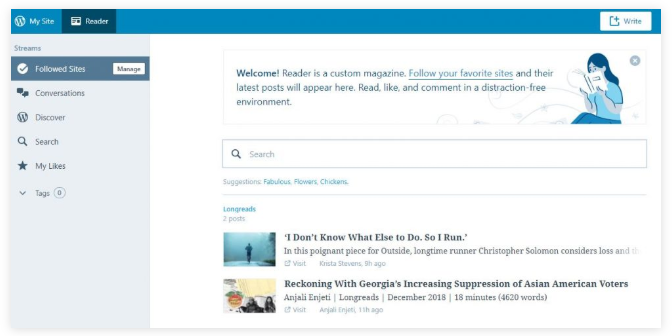 When you logged in start explore any of the themes for reading and sign up for any blog of your choice. Any new update will appear right on your readers' page. However, we would recommend the use of Feedly if you still have not used WordPress. This user-friendly application will be at the top of the choice. The app for iOS, Android, and Kindle is accessible as a setting for your browser, as well as a mobile app. You can classify your channels, search for specific topics, and turn off any notifications you don't need. Simply put, it makes everything very simple.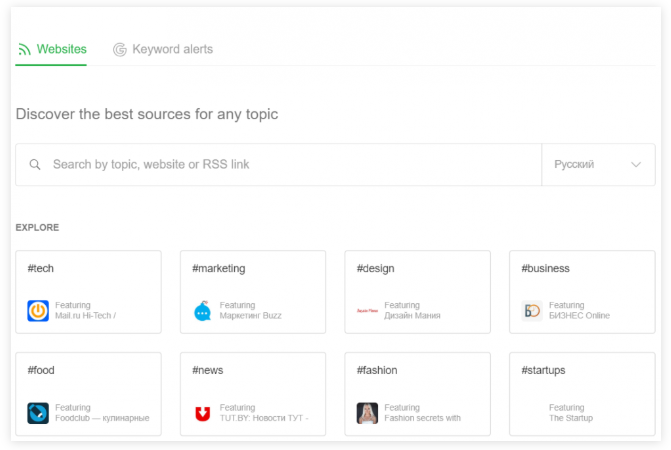 As well, you can try not less known readers as the Inoreader, Feeder and The Old Reader
The channel reader will be sorted automatically, so you don't have to do it by yourself. However, if you want to know what a feed content looks like, you can access it by adding /feed/ to any blog URL.
Say you want to enter the example.com/blog/ channel. The URL for WordPress RSS Feed will then be the following example.com/blog/feed. You can change example.com into any domain name. The page would look like a structured XML document containing content metadata, or simply a feed.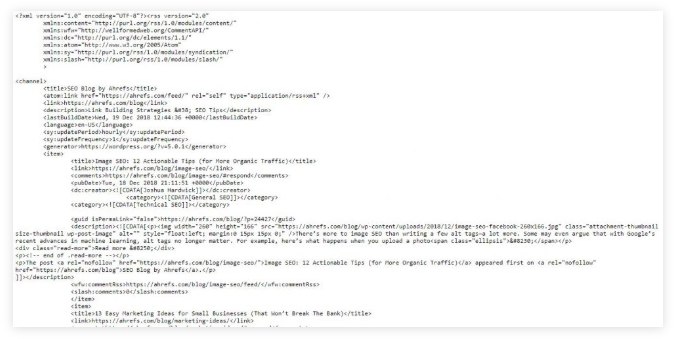 If you are interested in learning about the content feed, you can access it in the same way by entering hostinger.com/blog/feed/, and it will generally look the same.

Although some browsers have a built-in channel reader, we do not recommend using them. They can't interpret the feed well.
Let's say, you will see the following text every time Google Chrome can't read the news feed correctly: "The XML file has no style related information. Your document tree is illustrated below".
All concept of feed reader is to make our content simpler to use. If you are not an advanced user, why do it in the hard way?
RSS Feeds practical use
Considering the growing popularity of Instagram, Youtube, and Facebook you may find WordPress RSS Feed an old concept. Still, we do believe that the RSS feed remains up to date more than ever. There are some practical features of an RSS feed that we can take for granted.
Webmaster's side
RSS Feed is an efficient tool that helps to improve your website. So if you are a network user, you do not want to miss out on these features:
Your email marketing strategy partner.
Never offer any products or send reminders via email. The First thing you should do is to extend the channel of your email addresses list. Press the button "call to action", that will allow you to join your channel.  This way, your subscribers can access your new content directly from their email.
A great opportunity for content syndication.
The RSS feed is designed to make your content accessible to the public. It is possible for anyone to enter and join your site. To encourage such conduct, you can advertise an RSS feed by rendering the link visible to other users. How's that? Use a widget or sketch, place it on the sidebar, and combine it with interesting text. You are about to see the results in the shortest possible time.  You can integrate it with IFTTT to promote your social media content. If it's done correctly, a big surge of traffic won't be long in coming!
Surely worked a lot to create a blog. You've got a theme that's great and front-end makes the positive user experience. But what about your RSS feed? In fact, may add content, images, different styles, and even ads to each post in your feed.  It is worth mentioning that it requires knowledge of php and this is actually not only for beginners. 
User side
The basic reasons anyone should use an RSS feed are flexibility and simplicity. You don't need to navigate over 20 separate Web sites to enjoy good content.
By simply subscribing to your favorite sites, you will be "fed" with the updates! It also comes in handy if you are not connected to the Internet.
What's more, most channel readers give you a search function. Place a tag on the topics you like, letting the readers notify you of a new topic and group them together into an arch for later review.
Conclusion 
You should use RSS feeds as a service for subscribing. It is that easy-to-use. Whoever you are, everyone can easily enjoy these benefits.
Try it now when you know what WordPress RSS Feed is, and explore it for yourself!